Hemos descubierto este precioso y muy interesante libro sobre gatos, escrito en 1903:
The Book of the Cat de Frances Simpson, con 12 láminas de color y cerca de 350 ilustraciones en el texto entre fotografías y dibujos.
No es sólo un documento histórico interesante que nos muestra una visión del mundo del gato de hace más de un siglo, sino también nos habla sobre su historia, sus cuidados, las exposiciones, sus razas y estándares, su anatomía, sus razas y estándares, su anatomía, su críanza y genética y sus enfermedades e incluso da consejos de como fotografiar un gato.
El nacimiento del gato según una antigua leyenda árabe
En el Capítulo I - Gatos del Pasado - relata a modo anecdótico una curiosa antiguo leyenda árabe que explica el nacimiento del gato.
Hay muchas leyendas acerca de cómo surgió la existencia del Minino. En los trabajos de un naturalista árabe se puede encontrar un sorprendente relato. Es el siguiente: "Cuando Noah hizo entrar una pareja de cada clase de animal, sus compañeros y sus familiares le decían, '¿Qué seguridad puede haber para nosotros y los animales mientras el león debe morar con nosotros en el mismo navío?' El patriarca ascendió a rezar y rogó a Dios. Inmediatamente llegó una fiebre del Cielo y agarró al rey de las bestias, de manera que la serenidad de los habitantes del Arca fue restaurada. Pero había en el barco un enemigo no menos nocivo – que era el ratón. Los compañeros de Noah llamaron su atención acerca de que sería imposible para ellos preservar sus provisiones y sus ropas intactas. Después que el patriarca había dirigido renovadas súplicas al Altísimo, el león estornudó y un gato salió de sus narices. Desde aquél tiempo en adelante el ratón se volvió tan tímido que adquirió el hábito de esconderse en agujeros."
Primeras exposiciones felinas en Inglaterra
Gatificación hace más de un siglo ...
Cómo botón de muestra - y porque lamentablemente hasta ahora sólo he podído hojear las 422 páginas - un interesante párrafo sobre gatos castrados... (y esto hace más de 100 años)...
Capítulo XXI
Gatos castrados
Ha sido mi experiencia en los últimos 2 años que la demanda de gatos castrados, o en otras palabras, gatos domésticos, está aumentando; y estoy inclinado a creer que si algunos amantes hicieran una especialidad de esos gatos podrían hacer un floreciente comercio. Tal como está ahora, los propietarios de gatos machos no se preocupan de hacer el esfuerzo y la responsabilidad de dejarles castrar o modificados, como se llama el proceso a veces, y novatos en la adquisición están siempre muy deseosos de que la operación debería haberse realizado antes de llegaran a tener sus mascotas. Una categoría de ventas para Castrados en nuestras grandes exhibiciones no sería ninguna mala idea, pero la edad se debería limitar a ocho meses, o como mucho diez, ya que es sólo natural que los compradores tengan ganas de tener mininos antes de que lleguen a la flor de la vida, para que puedan crecer como mascotas en casa. Por razones fácilmente comprensibles es necesario castrar a tu macho cuando llega a la edad adulta, si deseas tener una mascota casera de intachable maneras. Por mi parte considero entre cinco y ocho meses el mejor momento para la castración de un gato, pero he conocido frecuentemente casos de operaciones mucho más tardías. Es, sin embargo muy importante que el gato macho no haya mostrado anteriormente ningún deseo de aparearse.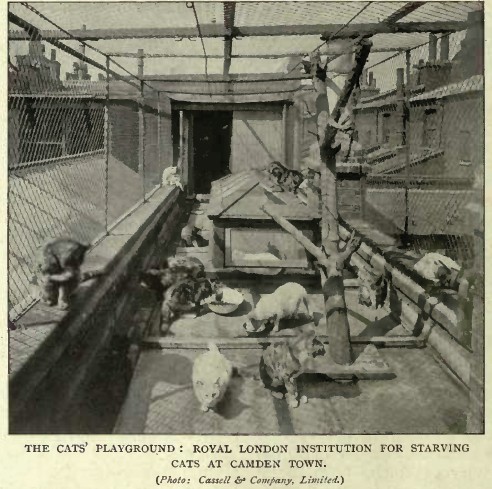 El área de juego de los gatos: Institución Real de Londres para los gatos hambrientos de Camden Town.
Puedes descargate el libro completo en formato pdf aquí.
Posts relacionados (otros libros)