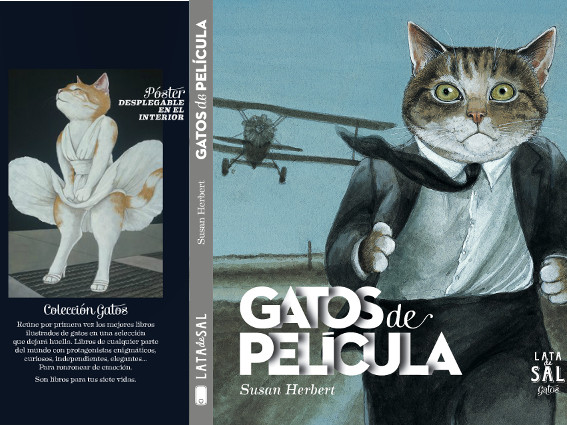 Susan Herbert, una de la más destacadas artistas felinas contemporáneas,  curiosamente empezó su carrera pintando RATONES.

Nació 1945 en Hampton-in-Arden y empezó a trabajar como taquillera en el Royal Shakespeare Teatro en Stratford-upon-Avon,  dibujando y pintando en su tiempo libre con un extraordinario talento natural .

Sus siguientes trabajos en el Coliseo de Londres y al Teatro Royal de Bath le permitieron exponer sus cuadros – recreaciones de escenas del Anillo de Wagner con ratones en vez de humanos- en las antesalas de esos teatros. Paralelamente asistió a la Escuela Ruskin de Pintura, dónde solamente pasó un semestre, opinando que eso no era lo suyo…
 … y con el tiempo llegó a desarrollar a su característico estilo de pintura antromórfica con acuarelas dónde los modelos en cuadros de maestros antiguos, recreaciones de obras de Shakespeare, ópera y ballet,  retratos de personajes históricos o protagonistas de películas cinematográficas son reeplazados por  –  GATOS.
Artista freelance desde 1070 con exposiciones permanentes en el Teatro Real y el King's Circus en Bath, llegó a confirmar su popularidad internacional en 1995 realizando una exhibición itinerante con Tokyo como punto de partida.
Entre  1990 (The Cats Gallery of Art) hasta 2006 (Movie Cats)  publicó sus obras a través de la editorial  Thames and Hudson en más de una docena de libros (en Inglés), dedicadas a la pintura impresionista, la ópera, la época victoriana, la Edad Media, Shakespeare, el estilo Pre-Rafaelístico y el cine.
Algunos de estos libros fueron publicados por otras editoriales en diferentes idiomas, entre ellos el Francés y el Alemán, y ahora Lata de Sal –especializada en Vintage y Gatos - nos ofrece por fin su último libro Gatos de Película en Español (o Gallego o Catalán), disponible desde el 5 de Febrero 2014.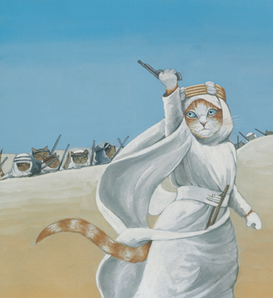 El gran arenero de Arabia
Con 57 ilustraciones, plasmando instantáneas de películas inolvidables, desde títulos de cine mudo de los años 1920 hasta el cine moderno y los títulos de las cintas 'traducidos' al universo gatuno.
Un libro, que según la editorial madrileña, está destinado a niños de cero a ciento y pico años, y seguro les encantará, ya que Lata de Sal lo ofrece con su distintivo lomo metálico y una cuidada presentación que hacen las delicias de cinéfilos y profanos. Además viene con un poster de regalo.
Puedes ver el libro completo online aquí.
Y una selección de los (otros) cuadros de Susan Herbert en la web de en la web de la Chris Beetles Gallery – dónde desde mediados de los 90 forman parte esencial del anual Summer Cat Show.
Posts relacionados (otros libros)