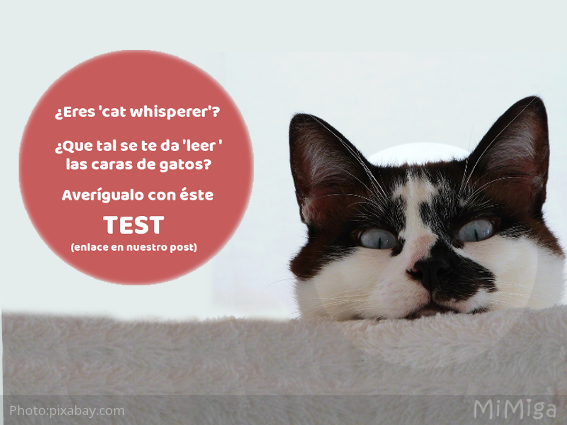 ESTUDIO & TEST (para ver tu capacidad)
 (Estudios -útiles- así SI, por favor: Sin utilizar gatos, testando a humanos, con resultado interesante y más preguntas a resolver…)
  Hola, CATLOVER, si crees que vivir con un gato da capacidad para poder interpretar las emociones de los gatos mediante su expresión facial,
  ESTO TE INTERESA... porque puedes estar equivocado. Sigue leyendo (abajo tienes 2 Tests para ver qué tal se te da).
ESTUDIO
conducido por la Dra. Georgia Mason (Department of Animal Biosciences), Dr. Lee Niel (Department of Population Medicine) at al. de la University of Guelph, Ontario, Canada, y publicado en la edición de noviembre de 2019 de Animal Welfare. Patrocinado por Nestlé Purina para Estudios en Bienestar Emocional de perros y gatos e inspirado en sus propios felinos.
OBJETIVO
Determinar si las personas pueden identificar emociones felinas en caras de gatos.
Metodología
Encuesta basada en web, con 40 videoclips (<4 s), representando a 40 gatos diferentes en estados  positivos (gato buscando / acercándose a un objeto o humano para ser acariciado o recibir golosinas) o negativos (mostrando claramente signos de evitación, comportamiento de retirada o intentos; frustración o miedo, dolor, náuseas) y niveles de actividad bajos y altos. Centrándose en ojos, hocico y boca, eliminando señales obvias cómo dientes descubiertos u orejas completamente plegadas. 
La mayoría de los vídeos proceden de YouTube (75%), un 7,5%  de veterinarios (todos los gatos inactivos en estados negativos) y el resto de colegas / del equipo de investigadores mismo (gatos en estados positivos). Se excluyeron gatitos y gatos con fenotipos que dificultan la lectura de cambios faciales.
Interés
1. La reputación de "inescrutables" de los  gatos (importancia de señales sutiles).
2. En algunas situaciones, la cara es la parte del cuerpo más visible.
3. Nuestra capacidad neurológica para un procesamiento rápido y sofisticado de expresiones y la 
similitud de alguna de ellas entre mamíferos (cara de asco, ojos abiertos en señal de alarma, cara "de juego").
Participantes
De 11.040 individuos que respondieron se eliminaron los menores de 18 años, con problemas visuales y respuestas insuficientes, quedando 6.320 respuestas para el análisis.
La mayoría eran mujeres (74%) y de 18 a 44 años (79%), con un 42% en el rango de edad entre 25-34 años. Con participantes de 85 países (33 con más de 10 participantes, Canadá 36%, EE. UU. 30% y Rusia 9%). 45% con título universitario y 34% con título de posgrado. La mayoría (93%) han tenido un gato de adultos, y durante una media de 12 años, viviendo 80% actualmente con al menos 1 gato.
Cada participante vio 20 videoclips, rellenó un breve cuestionario y completó la Escala Lexington Attachment to Pets (LAPS), para evaluar la fuerza de su vínculo con su gato.
Resultado
La puntuación promedio fue baja (12/20 correcto = 59%), con clips individuales puntuados entre al  17-89% (9 vídeos en más del 80%).  
Los estados positivos eran más propensos a ser identificados correctamente en los gatos activos (¿expresiones juguetonas o emocionadas más fáciles de leer?, especialmente en los participantes con un alto por ciento de apego) que los de gatos en estado negativo y alta actividad.
Llamativamente, un 13% de los participantes puntuaron significativamente mejor (≥15/20).
Las mujeres tuvieron más éxito que los hombres para identificar correctamente los estados afectivos del gato (* hipótesis del cuidador principal y mayores habilidades para decodificar las manifestaciones no verbales).
Los jóvenes tuvieron más éxito que los mayores, al igual que los participantes con experiencia profesional felina. (3% veterinarios, 10% ATV, 4% + 10% personal y voluntarios de refugios, 7% catsitters y 6% más trabajando con gatos en otras ramas).
Tal vez personas de animales sean intrínsecamente más empáticas y sintonizadas con sus emociones, tengan más formación y aprenden por la experiencia, reconociendo señales sutiles de animales felices o infelices para identificar dolor y enfermedad, y evitar ser arañados o mordidos.
Comprender las expresiones faciales felinas puede ser una herramienta útil en la evaluación del bienestar  y ayudar a los propietarios de gatos a comprender mejor su  vida emocional, fortaleciendo el vínculo gato-humano.
Lo sorprendente...
La experiencia personal (ser catlover y/o vivir con gato/s  NO  es importante para la capacidad de leer caras de gatos
(no influyó vivir con gato, su número, ni los años compartidos).
RESUMIENDO
Es posible deducir correctamente las sutiles expresiones faciales de los gatos, aunque a la mayoría de personas les resulta difícil.
Y el rango de expresiones faciales felinas detectables para humanos, tanto positivas como negativas es mucho más amplio que demostrado anteriormente.
Ahora queda por ver – mediante futuras investigaciones – 
si la habilidad para interpretar correctamente expresiones faciales de gatos se pueden aprender con experiencia y/o ser mejorada con entrenamiento.
OPINION
Con unos resultados correctos bastante bajos y la premisa que la experiencia personal / vivir con gato NO influye en poder leer mejor la cara de uno, y la dedicación profesional o de voluntariado SI – dándose se los mismos resultados en más de una docena de estudios con perros – y una puntuación mejor a menor edad (capacidad e interés en aprender), no nos queda otra que repetir nuestro mantra: 
Human@ (in)formad@ - gato (o perro) feliz.
TEST
Y ahora te toca a TI: Pon a prueba tus habilidades.
Con una selección de los vídeos del estudio de la Universidad de Guelph - Centro Campbell para el Estudio del Bienestar Animal
[está en inglés, pero sólo tienes que poner positive / negative / no sé y la solución es una frase cortita].
¿Qué bien puedes leer caras de gato?
8 videoclips de caras de los gatos en estados emocionales positivos o negativos.
¿Puedes decir cuál es cuál?   Pincha AQUÍ para empezar.
¿Eres un experto en leer caras de gatos?
8 videoclips desafiantes que solo los mejores participantes del estudio tendían a acertar.
Pincha AQUI para comenzar.
Te proponemos realizar los tests en familia para ver quién consigue la puntuación más alta. Y, si quieres, compartir tu experiencia y resultados en nuestros hilos correspondientes en Facebook y Twitter.