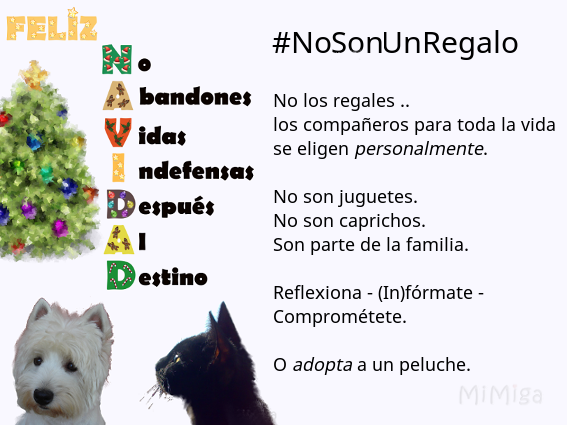 Sí, has leido bien ... NO adoptes (en Navidad)
Coincidimos plenamente con Fundación Affinity que la mejor manera de prevenir el abandono es una tenencia responsable y la educación en ella.
Desvincular la adopción de Navidad, evita la connotación de "regalo".
(A pesar de las campañas anuales el 40% llega de esta forma a su nuevo hogar).
Evita adopciones por impulso (ceder ante la petición de un niño, lástima por el pobre animal etc.), que según Fundación Affinity se dan en un número elevado (34%) de los casos.
Adoptar no debe ser una decisión on the spur of the moment. Hay que tomarse tiempo de elegir y conocer al nuevo miembro de la familia. Idealmente en varias visitas y dejándose aconsejar.
Hace falta una profunda reflexión previa, información y aprendizaje acerca de las necesidades específicas e intrínsecas del animal y cómo afectarán a nuestra vida futura.
Presta la misma atención a la elección de tu amigo animal que a tus amigos humanos. Serán muchos años de vida en común y es importante que haya feeling mutuo.
Huelga decir, que adoptar nunca debería ser "la solución más barata" (frente a la compra). Los gastos para los cuidados serán los mismos y sumarán a lo largo de la vida del animal varios miles de euros.
Pero hay otra razón de peso por la qué no debes adoptar en Navidad
Tu nuevo compañero necesita tiempo y paciencia para adaptarse. Necesita tranquilidad y una rutina diaria para sentirse emocionalmente seguro. Y las Navidades con sus celebraciones, reuniones y compromisos y el ajetreo y estrés pueden dificultar precisamente eso.
Y otra realidad, que muchas veces no se tiene en cuenta: Un animal que ha pasado por un refugio, posiblemente abandono y/o maltrato puede tener secuelas psíquicas y físicas y su adaptación requiere aún más paciencia, tranquilidad y amor.
Lo ideal es tomarse unos días de vacaciones, posponer todas otras actividades y compromisos y centrarse exclusivamente en ayudarle en esa tarea.
Vais a compartir un largo camino juntos - no te precipites - REFLEXIONA - APRENDE - COMPROMÉTETE