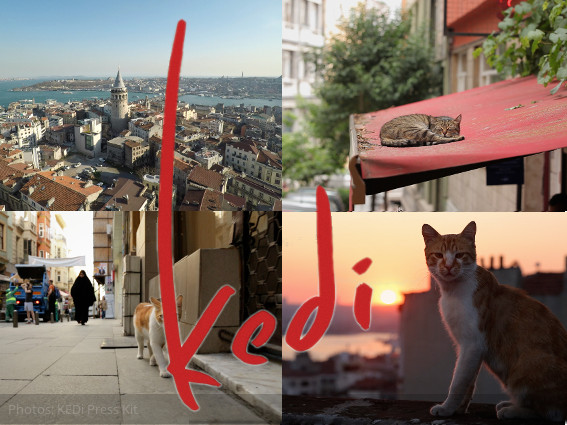 Sharing 2 recent events that'll delight every catlover:
An exemplary campaign by municipal authorities in Istanbul to protect stray cats during this winter's cold spell.
And the film KEDi, an epic documentary about the street cats of the metropolis.
Campaign to aid the street cats of Istanbul
With the recent cold spell, which seriously affected life in Turkey's largest city, Istanbul's municipalities have launched a campaign to protect its stray cats.
Local jurisdictions distributed shelters and food, encouraging residents to do the same and providing food for shelters built by them.
In the municipality of Büyükçekmece they erected "a house of cats for each neighborhood" and the mayor said to increase their numbers  if the residents demand it. He also sees need for a rehabilitation and treatment center with capacity for 5,000 cats.
Bağcılar City Council placed wooden shelters, built by disabled people in municipal courses.
Esenler and Kadıköy City Councils set up shelters with water and food in parks and neighborhoods throughout the districts, with Kadıköy also organizing a "street cat festival" with volunteers building and installing cat shelters. In the same district children are educated about the needs of the street cats and the İsmail Hakkı Tonguç nursery built shelters for plastic and cardboard cats.
The City Council of Bahçelievler, apart from providing and installing shelters in the street, medically treats the street felines.
In the municipality of Şişli were distributed last year 800,000 cat shelters as part of  a project to raise awareness on stray animals' need for shelter.
When a local group of reactionaries recently attacked another group for setting up a shelter in Üsküdar, it was the Town Hall who raised the shelter for the felines in the same place.
KEDi - The film
An epic documentary about cats in Istanbul, created by an international team composed of Turkish director / producer Ceyda Torun, Australian publisher Mo Stoebe,  American cinematorapher / producer Charlie Wuppermann and American composer Kira Fontana, and acclaimed by the critics.
The feline cast of 7 cats, Sari "The Hustler", Duman "The gentlemen", Bengü "The lover", Aslan Parçasi "The Hunter", Gamsiz "The player", Psikopat "The Psycho" and Deniz "The Social Butterfly", represent the hundreds of thousands of cats that roam the streets freely. Some loners, living in abandoned buildings and looking for food in the trash, others cared for or adopted by communities of people, who pamper them and give them food and shelter.
In Istanbul, for thousands of years street cats have been sharing life with human inhabitants and are an essential part of the communities, enriching the metropolis.
Its felines are part of the culture and identity of Istanbul, as are its monuments, the Bosporus, tea, raki and fish restaurants. So much so, that even Obama visited during his tour to the Haiga Sophia and his famous cat.
The director of the film tells how, like anyone living in Istanbul, she too grew up surrounded by cats, her confidants and friends, who made her childhood less lonely and made her the person she is. With his film she pays tribute to them and invites us to reflect on our relationship with cats, nature and other humans.
And, if viewing KEDi you feel as if unexpectedly a purring cat is cuddling up in your lap, impossible to move without leaving its softness and warmth and thus making you philosophize about things that you might not have allowed yourself with the busy life you lead, her film has fulfilled its purpose.
KEDi was in theaters in 2016 in the USA. And in International Projections in Canada, Australia, UK, Finland, Sweden and Singapore and of course Turkey