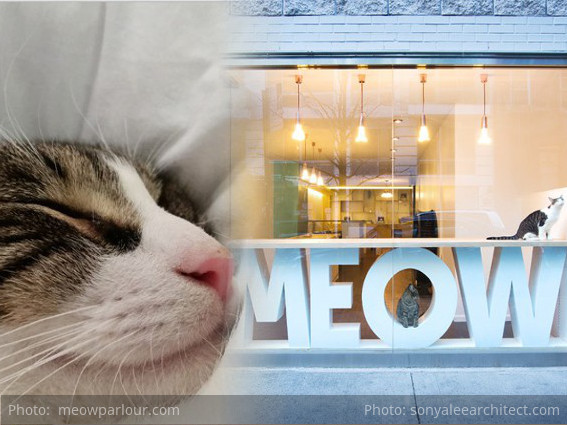 New York's 1. Cat Café opens December 14, 2014  -  thanks to  A CAT!
We love the story behind New York's a. Cat Café, Meow Parlour.
Because all began with a rescued street kitten and seems almost a fairy tale.
Mr. Socks not only introduced Christina Ha, one of the owners, into the feline universe, but achived
to save the couple form workalcoholism by wanting to spend more time playing with him
that few month later they adopted two more cats, Pickle and Bobo
that his humans became foster home for 3 more kitties
and adopted one of them Poussey, because Bobo had 'adopted' her and went into hunger strike when they were separated  (well, here Bobo also helped)
... and - that 18 month later Christina became co-owner of the 1. Cat Café in New York, where she can combine her newly-discovered passion for cats with her passion for pastry (she is head Pastry Chef of the popular patisserie Macaron)
But there's still more...
because this is also "a dream come true" for Emilie Legrand from Paris, baker at Macaron and cat lover, who lived bu now 2 years in New York.
Little could she imagine during their visits to the Cat Café at her home town, one in Japan, and others - or watching the cats from Purina's pop-up Cat Café this spring in the shop window for being unable to get inside, that few more than 6 month later she would have her own Cat Café.
Thanks to Mr. Socks, since December 15 there's a new Cat Café in this world, home to a dozen rescued cats. The inhabitants come from the no-kill organisation KittyKind and can be adopted.
The establishment has a custom-made wood wall with hiding places and a catwalk beneath the ceiling. There is free wifi for los visitors and drinks and cat themed pastry from the Meow Parlour Patisserie just over the street. For kids under 10 they have a special time slot with activities and information sessions where the youngsters can learn about cats.
And that's not all... The response from the New Yorkers has been overwhelming: In their 3-week Kickstarter campaign they founded more then three times the goal, the reservation system broke down temporally from the huge demand (over 1000 reservations in less then 24 h).
Mr. Socks, in thankfullness for not have looked away, yet changed the lives of at least 3 humans and 6 cats... but surely he'll change much more for (adopted) cats and their humans.
And YOU, if you found a kitten in need, what would you do? Who knows what it is able to do for you...