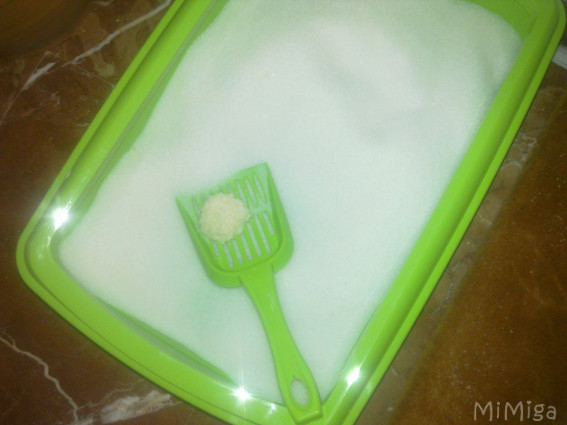 La AAFP (American Association of Feline Practitioners / Asociación Americana de Veterinarios Felinos) y la ISFM (International Society of Feline Medicine / Sociedad Internacional de Medicina Felina) acaban de publicar unas directrices que ofrecen a médicos veterinarios herramientas prácticas para prevenir, diagnósticar y resolver problemas de eliminación indebida y a educar a los propietarios de gatos acerca de la prevención del comportamiento 'ensuciando-la-casa'. 
Complementan las directrices un Cuestionario para el propietario. Diseñado para ayudar al veterinario a acceder rápidamente a un gato que muestra conducta de ensuciando-la-casa, capturando información relevante para  el historial del paciente. Y  un  Folleto de instrucciones para casa. Que ofrece asesoramiento práctico relativo a acciones correctivas para los clientes con gatos que están ensuciando-la-casa, que permite al veterinario indicar recomendaciones específicas para cada gato en individual.
Resaltan la importancia de disponer de areneros idóneos para los gatos (localización, número , tamaño, tipo de arena y limpieza) y la necesidad de crear un ambiente apropiado para el gato.
Ayudando al cliente a identificar los factores causantes y abordarlos eficazmente, el comportamiento cesará o disminuirá notablemente.
Una gestión efectiva necesita tiempo
Una gestión efectiva del problema común de ensuciando-la-casa puede fortalecer las relaciones veterinario-cliente-paciente, intensificar el lazo humano-felino, y sobre todo mejorar el bienestar de los gatos.
Cómo el ensuciando-la-casa felino es emocionalmente agotador para el propietario, es importante darle ánimos y  gestionar expectativas, explicando que la solución puede llevar tiempo.
El gato siempre tiene una razón
Es importante comprender que este comportamiento indeseado no se debe a un despecho o enfado hacia el propietario, sino a que las necesidades físicas, sociales o médicas del gato no son satisfechas.
Por ello se creó una terminología para 'urinación inapropiada' para evitar  así la implicación de una mala conducta por parte del felino.
Los 5 pilares para un ambiente felino sano (*)
1. Un sitio seguro dónde el gato se pueda retirar y se sienta seguro.
2. Varios recursos medio-ambientales claves separados.
Comida, agua, áreas de eliminación, áreas de rascado, áreas de juego y áreas de descanso. El gato necesito poder acceder a todos estos sitios sin ser acosado por otro gato.
3. Oportunidades de ejercer comportamientos de juego y caza.
El aburrimiento es una causa de estrés en los gatos.
4. Interacciones humano-gato positivas, constantes y predecibles.
Permitiendo al gato tanto iniciar, como terminar la interacción.
5. Un ambiente que respeta la importancia del sentido de olfato del gato. Información olfatoria y química son el principal medio utilizado por los gatos para evaluar su entorno y afirmar su sentido de seguridad y bienestar en el centro de su hábitat. Es importante evitar el uso de sustancias olorosas (p.ej. detergentes, medicamentos, comida, colada o elementos de vestir no familiares) que compiten o perturban la percepción sensorial del gato de su hábitat. Un principio fundamental para mantener un ambiente sensorial familiar y seguro es no castigar a los gatos por ensuciar la casa.
La bandeja higiénica (y lo que debes saber sobre ella)
A partir de 2 areneros en sitios separados para un sólo gato, añadiendo 1 arenero para cada otro gato +1
Repartir en diferentes espacios, lejos de comida y agua, siempre accesibles sin ser coartado por otro gato.
Cuando más grande mejor, rectangular, mínimo 38x49,5 cm, preferentemente sin tapa. 
Sin perfumar, preferiblemente aglomerante fina, altura mínima 3 cm.  Testar la preferencia del gato con varios areneros y arenas diferentes.
Recoger deposiciones como mínimo 1 vez al día y lavar  cada 1-4 semanas con agua caliente y jabón. Evitar amoniaco y productos de limpieza fuertes.
Además habrá que descartar y/o tener en cuenta  urolitiasis, enfermedad crónica del riñon, infecciones del tracto urinario, diabetes, hipertiroidismo, artritis, etologías ortopédicas y neoplasias y marcaje urinario por diferentes motivos.
Importante si conviven varios gatos
La distribución de los recursos debería asegurar que gatos en diferentes grupos sociales no se vean forzados de compartir recursos esenciales.
Todo esto requiere una EDUCACIÓN del propietario, el empleo de feromonas, y SIEMPRE reforzamiento positivo.
Para el veterinario generalista las directrices ayudarán a eliminar una gran parte de la confusión y ambigüedad acerca de ensuciando-la-casa, ofreciendo recomendaciones prácticas para prevención, diagnóstico y gestión de este problema común.
Finalmente, las presentes directrices pueden marcar la diferencia entre si un gato se quede en casa o pierda la vida.
Resulta curioso, rayando a preocupante ...
... que haya que dar estas directrices a personal formado en al ámbito medico-veterinario, quienes bajo mi punto de vista deberían ya disponer de esta (in)formación, cuando hasta una simple apasionada de los felinos como yo no haya encontrado nada nuevo en las 32 páginas del documento de directrices y sus suplementos.
Esto demuestra una vez más el gran desconocimiento de la compleja y muy variable personalidad de los gatos, no sólo por parte de la sociedad y de muchos propietarios, sino incluso del personal veterinario.
Y destaca para mí la anotación: Las directrices incluyen información científica documentada si es disponible. No obstante, debido a la frecuente falta de investigación, algunas recomendaciones reflejan la experiencia clínica acumulada de los autores.
Personalmente creo que la experiencia directa clínica (o no) es mucho más valiosa que cualquier estudio científico, tratándose de unos seres increíblemente adaptables y sorprendentes que de ninguna manera se ajustan a una percepción preconcebida.
Esperemos que con estas acciones, efectivamente se salven (y se mejoren) muchas vidas gatunas.
Nota final IMPORTANTE
Este post únicamente transcribe en su primera parte la publicado en las directrices de AAFP/ISFM y en la segundo la opinión personal de la que escribe este blog.
Si tu gato muestra problemas de eliminación indebida, por favor CONSULTA SIEMPRE A TU VETERINARIO.  Entre otras cosas, porque para empezar habrá que descartar cualquier problema físico que tu minino pueda padecer.
Una vez descartados problemas físicos puede ser de ayuda UN ETÓLOGO Y/O TERAPEUTA FELINO.