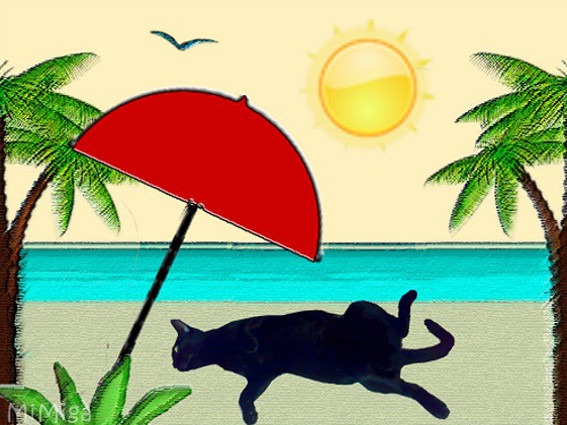 Take her/him with me or not?
As we commented on our post in April 'Travelling with cats', the decision to take your cat with you on vacation depends on several aspects:
If we have accustomed our cat from young age to accompany us, for example to a second residence or travelling in caravan, he/she has a trusting character and is curious about novelties, surely he/she doesn't object and enjoys the holidays with us.
If, on the contrary our cat isn't used to travel and/or has a timid character and is frightened by changes, it would be better not to stress him/her unnecessarily and think about other alternatives.
Short Trips
If we'd only be off for a weekend, we can leave him/her alone at home, provided with sufficient water (allocate various bowls) and food (preferably in automatic dispensers -you can find a great variety on the market-) and several clean litter trays.
Cat sitter - at my home or yours?
If we'll be away for more than 4 days, it'll be best if a confident person, acquainted with the cat, could look after him/her in our own home. Maybe someone from the family or a friend could reside there during our vacations or visit every day and provide our cat with fresh water and food, clean the litter tray, play and stay a while to keep company.
Some Animal Protection Associations also offer this kind of sitter services.
You can also consider the possibility that another person provides foster care in her home. In that case, our pussy will need a longer adaptation period (about 1 week) to feel comfortable.
Surely you have seen your cat rub her/his head on the furniture… leaving odor marks (facial pheromones) which give him/her security. You can help to create a less stressing environment for the 'exiled' cat using artificial pheromones (like Feliway) and create well-being.
Take into consideration the presence of dogs or other cats and make sure the foster home is secure in feline aspects. And, if you could arrange a test stay for some day(s), all the better.
Preparations
Besides - and independently who cares for our cat- we have to make some previous arrangements and checking in order to leave relaxed:
Take the cat to the vet for a routinely checkup, vaccinate him/her if necessary some time before the holidays and apply a (preventive) parasite treatment.
General revision at home (ear cleaning, hair care and nail cut).
Brief the person in charge of our cat about his/her character, habits and peculiarities, for instance places used to hide, warn about the danger that suppose open doors and windows, leave the phone number of our habitual vet and assure us, that the sitter in case of emergency will be able to get the cat there, as well as provide an alternate, if -for whatever extraordinary circumstances - he could not attend our feline personally.
If the sitter is a stranger to the cat, it'll be recommendable that they get acquanted before: Observe the feeling between them, and if the sitter shows the proper interest, asking questions about the usual behavior of our cat, the feeding schedule, play and cuddle, the address of our vet etc.
Buy enough food and litter for the time of our absence.
Feline Residences
Another possibility is to take it to a feline residence, and, although this not only requires an adaption to a new environment, but also to new people and eventually other cats, it could be a good option for longer periods. Apart from the ideal situation of a person, loved bu the cat would attend him/her in your own home, the cat sitter option means that your cat will be a lot of time alone or equally in a new milieu, o worse, the territory of another cat. This may work out with two friendly cats or be an immense stress for both cats (and humans).
In any case we should visit the residence beforehand and assure that our feline will be cared for in the best way possible, and -even better- arrange a shorter test-stay well before our journey.
Ask your vet if he/she could recommend an establishment. Take into consideration that good residences are soon booked out and you'd have to make a reservation with enough time in advance and inform you about the conditions for admission.
Don't' be shy to ask them to show you where they will accommodate your cat, observe the other animals housed in the establishment, the cleanliness, disposition of water, toys, litter trays… and ask for the legal permission and the availability of caretakers and vet assistance 24 hours a day / 7days a week.
A good residence only admits vaccinated animals - minimum against Cat Flu (Feline Herpes and Calci virus) and Feline Panleukopenia (Feline infectious enteritis) - and with internal/external anti parasite treatment. This will prevent your cat from possible infections.
If they only allow neutered animals it's also a good sign: Not sterilized cats may cause turmoil.
Note if they show interest in your cat (name, age, gender, character, preferences, habits, feeding, sociability…, clinical history, name and phone number of our habitual vet.)
The lodgings for the cats should be secure, have good ventilation, air conditioning/heating, areas for rest, exercise and play, scratch posts and toys and a place to retire (cave).
To make the stay at the residence more bearable for your cat, do not forget a blanket or pillow or some clothing with familiar smell (don't wash before) which will reassure him/her. You could also ask if you can bring his/her habitual cat food.
Special cases and animals with chronicle illness
In the special case of chronically ill cats you may have to take into account special considerations to leave him/her at a residence or with a cat sitter.
You should be sure that they will administer the medication and/or special diet correctly, inform about the symptoms that alert about an aggravation and how to proceed in that case, even settle how to act in case of demise. And, although we always leave your contact phone number, in this special case, it's highly recommendable to provide them also with a second number from some trusted person, who can act and decide in your name if you - for whatever reason - shouldn't be contactable.
Although cats are especially sensible beings and normally reluctant about changes in their routines, they also possess an amazing ability for adaption. Therefore the ideas exposed in this post could be only guidelines and you'll have to consider in each particular case what is best for your feline companion.
Usefull Links
Recommended establishments in Spain which comply with all legal requirements.
Interactive search page for canine and feline residences in Spain from Fundación Affinity. 
List of boarding catteries in die U.K. from FAB Cats (scheme officially closed Oct.2010)