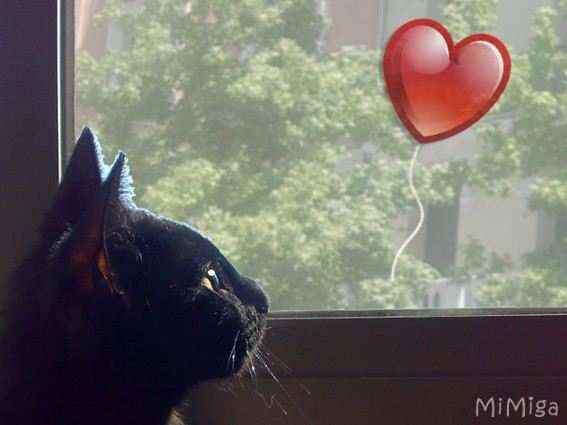 Tu gato realmente no te necesita 
¿Por qué los gatos son más independientes que los perros?
¿Por qué los gatos no son tan dóciles como los perros?

¿Su gato le quiere tanto como un perro?
Estos y titulares similares suelen aparecer frecuentemente en los medios...
Lo siento, no puedo comprender que científicos y periodistas no tengan en cuenta la etología de los felinos, que es totalmente distinta a la de los perros.
Los gatos son diferentes
Todo gato, salvo los leones caza en solitario porque sus presas son habitualmente pequeñas y dan sólo para 'un bocado'. Mientras los lobos y perros cazan en manada presas más grandes, tienen una estructura social fija y jerárquica y dependen unos de los otros.
Además, cómo ya comentamos en anteriores posts, creemos que cualquier estudio realizado con un animal territorial como el gato, que por el mero cambio ambiental padece estrés y se comporta de forma distinta a la habitual, es cuanto menos cuestionable.
Amor de verdad
Y cada vez que los leo estas 'afirmaciones', me viene a la mente el título de una canción de Tina Turner What's love got to do with it ...
Porque el AMOR no tiene que ver con dependencia, obediencia ciega, sumisión o posesión.
El AMOR no entiende de imposición. Es RESPETO, EMPATÍA y AGRADECIMIENTO por otro ser que elige libremente compartir parte de ese camino que es la vida con nosotros.
Lo que podemos aprender de los gatos
La relación con un gato nos puede enseñar mucho, que también es aplicable a las relaciones humanas:
Respetar el tiempo, el espacio y privacidad del otro.
No vivir condicionado, ni dependiendo de otros.
Usar la empatía para entender sus motivaciones y sentimientos de  (* la relación con un gato mejora notablemente si hacemos el esfuerzo de no sólo entender a la especie, sino a cada individuo en particular).
Por cierto, el apellido artístico elegido por Anna Mae Bullock es significativo:
Mujer de color, maltratada, rompe su relación artística y sentimental con su marido y emprende el camino al éxito en solitario.
Los gatos también son de alguna manera 'turners', que nos cambian la forma de entender muchas cosas, si les dejamos:
Amar sin poseer,
acompañar sin invadir y
vivir sin depender.
Y los espíritus libres, diferentes, independientes e indomables fueron estigmatizado y perseguido a lo largo de la historia.
Cada vez que escucho Locked Away de Rock City pienso en el amor tan especial que nos profesan nuestros felinos, porque para ellos nuestra apariencia, posesiones y demás cosas materiales están muy abajo en su escala de valores... y aunque nos viéramos sin nada, seguirían a nuestro lado.
Olvídate de sucedáneos de amor interesado y condicionado y aprende de tu gato el verdadero significado del AMOR. Si un gato no te quiere, no hay dada que hacer. pero...
Si un gato te quiere, es de verdad. Un gato nunca pretendería de querer a nadie.
-Anne Borris-