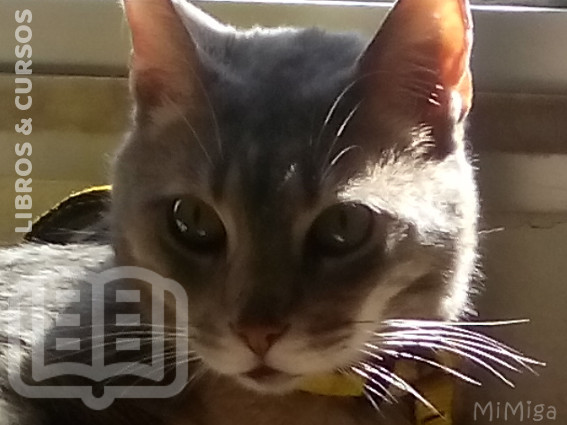 Tanto si eres novat@ en el universo de los gatos y/o comprometid@ con el bienestar de tu felino, opinamos que una herramienta indispensable es un buen libro para conocer sus peculiaridades y necesidades.
Te recomendamos "Conozca a su gato" de Dr. Bruce Fogle.

Es muy visual y te ayuda entender de forma fácil algo más a tu nuevo compañero de vida. 

Lo conseguí 1993 como regalo, cuando Whiskas aún estaba abriendo mercado en España, y me encantó.

Con muchas fotografías y textos fácilmente entendibles es también un libro estupendo para niños.
Así puede ser p.ej. un perfecto regalo para los niños de una familia que piensa adoptar a un gato. Entregado el día de su cumpleaños o en Navidad, junto con la promesa de visitar más adelante tranquilamente una protectora para elegir (o mejor: dejarse elegir por) ese nuevo miembro de la familia, les preparamos para conocer mejor a su nuevo amigo y aplazamos la llegada a casa a un momento más idóneo para todos (ver: Un animal no es un regalo).
Otro libro útil es "Observe a su gato" del etólogo británico  Desmond Morris. Da repuestas a preguntas básicas mediante respuestas simples y directas.
El práctico eBook de Educación Canina y felina sobre Comunicación Felina te ayuda a entender el lenguaje corporal y las señales que te envía tu gato. Lo puedes conseguir aquí.
Lectura obligatoria para tod@s l@s que compartimos la vida con gatos y para l@s que piensan en hacerlo es la guía de la GEMFE sobre las necesidades medio-ambientales felinas (la tienes aquí en pdf.)
Atender las necesidades del medio ambiente es esencial (no opcional) para el bienestar óptimo del gato. El nivel de confort del gato en su ambiente se encuentra intrínsecamente ligado a su salud física, bienestar emocional y a su comportamiento.
Si quieres profundizar, tienes el libro del etólogo alemán Paul Leyhausen, Katzenseele (alma de gato), disponible en inglés bajo el título "Cat Behaviour: Predatory and Social Behaviour of Domestic and Wild Cats", que nos ayudó mucho en nuestros comienzos en el mundo de los gatos hace ya casi 30 años.
También es muy recomendable hacer un curso, cómo el Curso Básico del Gato, de La Gatoteca. Requisito obligatorio para adoptar a uno de sus felinos, es una buena herramienta de (in)formar ANTES de adoptar y prevenir posibles problemas de convivencia, que no pocas veces terminan en abandono. En Madrid presencial o on-line (aproximadamente cada 2 meses). Ver Actividades de La Gatoteca.
En Terapia Felina tienes 2 cursos más amplios sobre comportamiento felino, otros seminarios y encuentros mensuales on-line 'Entendiendo a los gatos' (también en versión grabada) tratando varios temas en más profundidad.
Conocer a tu(s) gato(s) y sus necesidades especie-específicas no es ningún lujo, sino una condición indispensable para una convivencia feliz y la prevención de múltiples problemas.
Esperemos que nuestras recomendaciones (y la selección de posts en nuestro Blog) te ayuden a saber un poquito más sobre tu gato y que nos vayas siguiendo en nuestro Blog, Facebook y Twitter para compartir junt@s este maravilloso universo que es el mundo de los felinos.