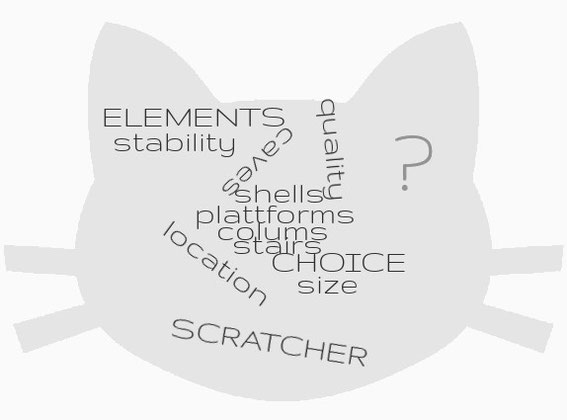 Choosing a scratching post
Although the choice of the scratching post depends on facts as the place and budget, there are some basic points to have always that you should always keep in mind:
The size
It should have at least one column or panel with a height of about 60 cm high, so an adult cat can scratch in his/her natural position, standing and streching.
Age, size and temperament of the cat
Senior cats also love to see the world from above, but have often problems getting down from the heights due to problems of osteoarthritis. For them is ideal a scratching post with platforms, which are not very separate or stairs. In the case of kittens you have to watch that they cannot hurt themselves if they slip and fall in the middle of their crazy games. To begin to accustom they we can try a small scraper which then serves as a complement to put it in another room or take it on vacation. For large and heavy cats you must look especially into the stability and the finish of the scratching post.
The stability
A scratcher that wobbles during it's use is not only a potential danger for our cat, but he/she can avoid it completely. A good scratcher has a wide and thick (3-4 cm)base and a design that provides stability. As an additional measure we can fix it by an angle to the wall or choose a scratching post with ceiling mounting.
The quality
The cheaper models are often also of a lower quality: The plush elements wear out or break at the seams, sisal yields and eventually you'll see the cardboard underneath, screws and tie rods are of poor quality, difficulting assembly and compromising stability.
Be aware that cheap scratchers can be long term quite expensive.
This doesn't mean that you cannot find a good model at an affordable price. Manufacturers of quality scratcher usually offer a guarantee and replacement elements.
Before deciding it can be very useful to know the opinions of other buyers, eg in forums, shelters or Cat Cafés, where scratchers are daily 'tested' by the feline inhabitants...
Personally, and from experience, I recommend spending some more to acquire a quality scratcher. The higher price is compensated by it's lifespan and  a good appareance during more time.
The location
Cats love to participate in our life and have everything under control. Therefore, the scratcher should preferably be where their humans are. The best scratcher will not be used if the cat doesn't like its location. 
Putting it next to a window can make it interesting, allowing to look at life outside. But you must take special care to protect the window with a net if you open it and that there are no drafts.
In nature cats often sharpen their claws stretching in the morning before they go hunting, so it may be a good idea to place it on the way between his/her sleeping and eating place.
What elements should have a scratching post?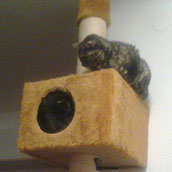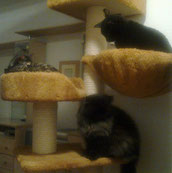 Colums should have a diameter of 9 cm, better 11 cm.
Cats love them as observation and/or retirement ponit. For kittens there are lined ones to prevent accidental falls during sleep. If there are more cats there should be a plattform for each one to avoid quarrels.
Are for many cats their favorite sleeping place and a great complement to the plattforms.
All cats love caves. The plush ones may be to warm in summer, but are perfect in winter. Those of wood or banana leaf are cool in summer, but need a cushion for colder times.
As mentioned before, they are perfect for cats to help cats with movility problems to get to the upper elements of the scratcher.
Other (possible) elements:
Barrel - offers plenty of extra space to scratch and hiding spaces.
Hammock - unstable element should not be located at a high altitudes. Some cats avoid them completely.
Scratching panel - offers more space for vertically scratching.
Roll - as play element for kittens. For adult cats most often too small.
Cat Toys attached to the columns.