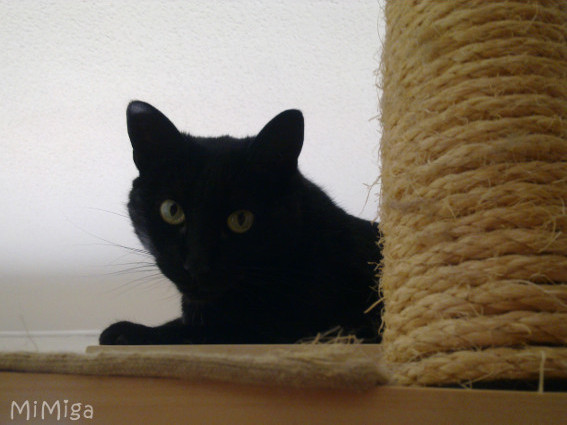 ... como ibamos maullando ... ya existe un producto pro-rascador (Feliscratch) desde 2012 y otro estudio sobre el efecto de feromonas en el rascado de hace 2 años...
(*1)  Estudio de Alessandro Cozzi, publicado 15 de octubre 2013 en el Journal of Journal of Feline Medicine and Surgery, sobre el efecto de semi-químicos sintéticos interdigitales felinos en el rascado. De los 19 gatos en 2 rondas de test, la mayoría preferió los rascadores 'preparados'...
(*2)  Estudio de Manuel Mengoli, publicado 15 de julio 2015 en el Journal of Journal of Feline Medicine and Surgery, basado en un cuestionario, con 128 gatos evaluados (sexo, edad, raza, entorno, presencia de rascador, frecuencia de su uso y rascado en otras superficies).
Somos buenos - usamos rascador
Mostró que si tenemos un rascador, normalmente lo usamos. Pero, ¡ojo¡ con el emplazamiento y la idoneidad - o podemos elegir paredes y mobiliario, que nos parecen más apetecibles bajo nuestro propio criterio.
Menos mal que este señor rompe una lanza por nosotros diciendo que rascar es una expresión normal de nuestro etograma y sirve para comunicarnos visual y químicamente. Dice que hay que comprendernos mejor, especialmente nuestras necesidades y usar soluciones éticas y etológicas cuando aparece un problema…
Por qué & dónde
Porque rascar podemos por muchos motivos, también porque no nos sentimos seguros en nuestro propio territorio por algún cambio, un gato o perro nuevo, un bebé… y entonces hay que trabajar sobre la raíz del "problema".
Y (parece que) nuestras zonas de rascado y otros marcajes sean más frecuentes en caminos usados regularmente que en la periferia del territorio.
¿De verdad es tan difícil ponernos el rascador en el camino de la cama al desayuno…?
Otro estudio, de Colleen Wilson, publicado 15 de julio 2015 en el Journal of Journal of Feline Medicine and Surgery, basado en una encuesta en Internet de más de 4000 personas en 39 diferentes países.
Los materiales ofrecidos para rascar resultaron ser sisal, cartón, moqueta y madera. Y allí empiezan los errores … porque el material más frecuente fue moqueta, que los abueletes mayores de 10 años usaron agradecidamente, pero TODOS los demás (también nosotras – e India tiene ya sus 12 añitos) tenían clara preferencia por el sisal - y los rascadores simples rectos o de varias plantas eran usados con más frecuencia.
Sorry, signore Cozzi y Mr. McGlone, pero creemos que el tema de atraernos con olor al sitio que nuestros humanos nos imponen – no funciona… y si del producto 'milagroso'  (Feliscratch) con esos semi-químicos o feromonas, sólo hay info en francés y no lo hemos visto por ningún lado… por algo será…
Y a los humanos que ven en una acción innata importante para nosotros un "potencialmente indeseable y problemático comportamiento", les diremos que mejor se compren un peluche.
aquí nuestros consejos gatunos
buscad el sitio correcto (bajo nuestra perspectiva felina)
el material apropiado, según nuestra edad y preferencia
evitad confrontarnos con situaciones que nos hacen sentirnos inseguros en nuestra propia casa
... y veréis cómo dejamos los muebles en paz…
Y si hacéis caso al signore Mengoli y os preocupéis por conocernos y entendernos - gato feliz, human@ content@.
Hemos maullado!!