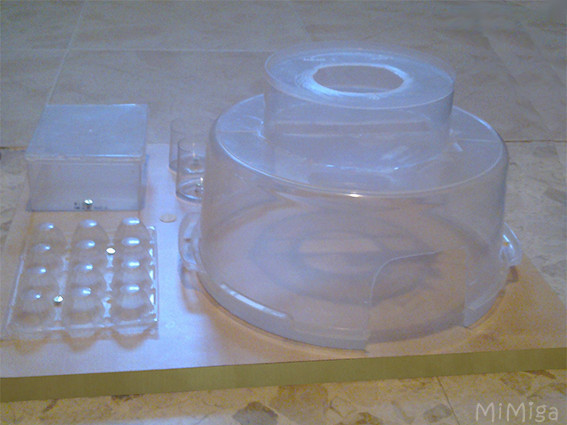 Take a look and sure you'll find many things at home to use for it.
Cardboard: empty paper towel rolls, boxes in all sizes, paper, cardboard egg cartons ...
Plastic: lint rollers, deodorant bottle balls, empty bowls of yogurt, desserts, egg cups, plastic lids, plastic spray bottles, detergent dispersing balls, caps from water carafes, CD towers, ping pong balls ...
Caution: Do not use rigid plastics that break under pressure.
Also corks, wooden curtain rings, wooden sticks, stones, shells, bamboo, chestnuts ...
NOT suitable are: Glass, rubber, hard plastic that can break, plastic bags (choking hazard and paper bags - always remove handles), ropes, wool and toxic materials, eg. albal.
Recommended adhesives
To join rolls in pyramidal plan: packing tape.

To paste cardboard or wood: carpenter's glue, which is not toxic.

To paste plastic with cardboard / wood: hotmelt adhesive (be careful with plastic), better (and easier to clean): screw.
Minimum distance between modules to prevent entrapment of the paws: 2 cm. Opening in rolls and containers: 4-5 cm.
Tools (depending on what you want to do):
nail scissors (to create openings)

cutter / saw

sandpaper (to soften the edges of the cuts in plastics)

hot melt glue gun

drill (if we need to make holes)

screwdriver and screws ...
And now, let's get to work!