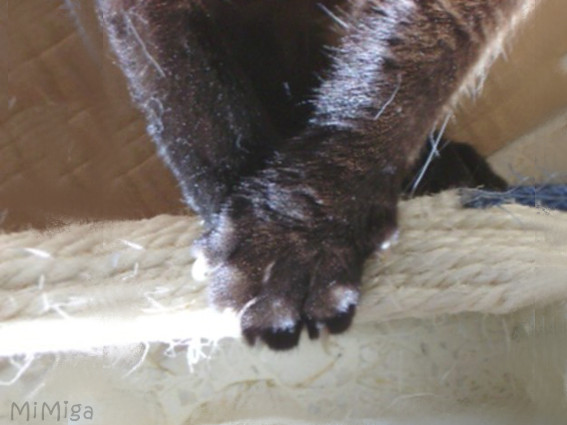 Estimados señores científicos y prensa,
está bien querer producir feromonas artificiales  que nos ayuden de rascar en el sitio adecuado  y así evitar muchas tragedias caseras, pero, por favor, no vendan sus presuntos 'descubrimientos' cómo una sensacional novedad…
Ya se sabe que
los gatos poseen glándulas odoríferas entre las almohadillas y que al rascar marcan su territorio tanto olfativamente con feromonas, como visualmente. Cuando un gato encuentra tal marcas, las estudia y luego pone muchas veces las suyas encima.
alfilar las uñas demostrativamente en el campo de visión de otro gato sirve para impresionar aquél (Leyhausen, Leyhausen (Katzenseele / Cat Behavior: The Predatory and Social Behavior of Domestic and Wild Cats: Predatory and Social Behaviour of Domestic and Wild Cats, 1978) 
Nos alegra también saber que puedan decirnos con exactitud científica cual es el rascador preferido por gatitos menores de 3 meses… aunque hacer tests con ellos, cuando deberían estar jugando con su madre y hermanos es explotación infantil y (raya a) maltrato animal.
Y todo para descubrir que si rascan encima de un rascador ya usado, rascan 6.3 segundos más!! Qué barbaridad!
Pero, ¿se han parado a pensar que esos peques aún están aprendiendo sus conductas, y que jugar a rascar y rascar de verdad son cosas distintas que se deben a diferentes impulsos.
Y que un rascador que nos gusta hoy, mañana ya puede ser totalmente ignorado... sobre todo si estamos en pleno crecimiento, ese cartón con forma de 'S' se nos quedará chico. Y aunque de adultos posiblemente lo seguiremos usando, un rascador de cartón no es suficiente. La mayoría de nosotros prefiere estirarse al rascar (rascar en vertical) y no será demás apañarnos un buen rascador, que nos sirve además para muchas otras cosas.
Por cierto, no nos extraña en absoluto que los enanos no reaccionaran al catnip… a esta edad les deja indiferente… pero ¡OJO! - al 70% de los gatos mayores de 6 meses sí nos gusta - ESTAIS ADVERTID@S - científicos tomar nota!!
Lo que sí nos ha hecho mucha gracia es el experimento con el pelo... os lo explicamos: Han rociado pelo de un señor don gato en el famoso rascador ondulado - con el increíble resultado de 2.7 largoooos segundos más de rascado!! A lo mejor ahora en vez de catnip empiezan a vender bolsitas con pelo gatuno para los gatos 'malos' que no usan su rascador. Entonces diremos a nuestra humana que se deje de prototipos de joyas y venda nuestro pelillo para una buena causa.
A seguir investigando para fabricar ese spray pro-rascar, aunque ya existe uno (*1), al que luego, queridos humanos - si ponéis el rascador dónde no nos gusta - tampoco haremos caso (*2).
Pero, si con eso, como ya maullamos arriba, se ayude a algunos de nuestros primos peludos a que no les echen de casa por tocar al precioso sofá, bienvenido sea! Hay que ver algunos 'humanos', que no merecen ese apelativo, cómo son - preferir un objeto inanimado y además 'de uso' a un ser viviente...
Y pensando en los menos favorecido, ¿habrán por lo menos donado los rascadores prueba a alguna asociación protectora?
Hemos maullado!!