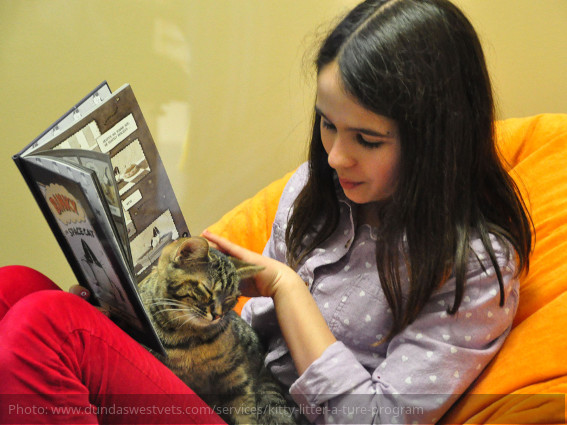 Aprendiendo leer y tenencia responsable
En Toronto, una cliente del Dundas West Animal Hospital inspiró la creación del programa Kitty-Litter-a-ture. Cada martes por la tarde, niños en grupos de dos, acompañados de un adulto, asean y dan de comer a gatos sin hogar, para después leerles una historia.
Así mejoran su nivel de lectura, aprendan a ser futuros propietarios responsables y ayudan a mejorar las opciones de adopción de los felinos.
Los responsables del programa ersperan que otras clínicas y refugios crean oportunidades similares, dado el impacto positivo para todos los implicados.
Lectura y algo más (iniciativa de una biblioteca)
También en Vancouver los gatos disfrutan ahora con la compañia de niños que les leen historias.
Y esta vez la iniciativa partió - curiosamente - de la Biblioteca Pública de Fort St. John. Cuando una de sus empleadas vio en Internet la foto de un niño leyendo a un gato de un refugio, se pregunto por qué no hacía esto todo el mundo... y ahora cada viernes por la tarde hay sesiones de lectura en el refugio felino local de la B.C. (The British Columbia Society for prevention of cruelty to animals), a las que se apuntan cada día más gente, y no es de extrañar.
Porque aquí ganan todos ...
Los niños superan sus dificultades y los gatos son socializados y tienen mejores posibilidades de adopción. Incluso cuentan que un gato enfermizo mejoró considerablemente desde el comienzo de las sesiones de lectura.
Ojalá esta nueva moda se extendiera también a España. Porque estas sencillas y maravillosas iniciativas son una forma eficaz y barata de mejorar muchas vidas y fomentar al respeto y amor hacia los animales desde pequeño.