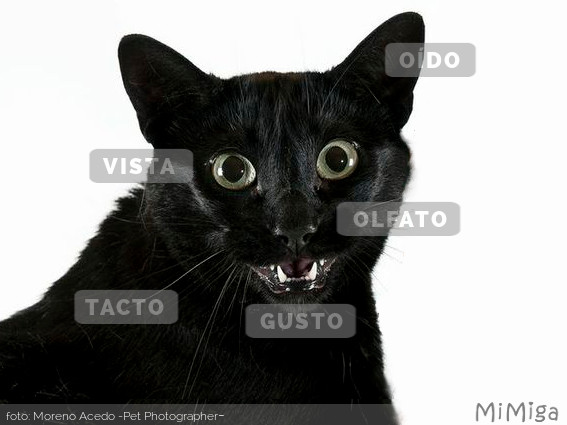 El sentido de vista del gato
Los gatos son binoculares como nosotr@s con un ángulo de visión de 140º de un campo de visión total de 200º, por lo que tienen mejor visión periférica.
Su ojo contiene, como el nuestro células conos y bastones, si bien en otras proporciones, adaptados a sus necesidades. Predominan los bastones para visión nocturna, que perciben gradientes de luz/oscuridad y visión de movimiento (6 veces más que en humanos) en detrimento de los conos, para visión de color. 
Se supone que la mayoría de estos conos son del tipo M 
(luz de onda media) o luz amarilla y algunos del tipo S (luz de onda corta o azul) por lo que los gatos no percibirán el rojo y verán el mundo en tonos pastel difusos – aunque yo tuve una gata que mostraba una clara preferencia por los objetos rojos…
En el tema de la visión de los gatos sin embargo parece que aún no esté todo definido...
Tod@s l@s que convivimos con gatos con hemos tenido alguna vez la inquietante sensación de que ven cosas que nosotr@s no podemos ver.
Y ahora la ciencia nos da la razón!
Un reciente descubrimiento, publicado el 19.02.2014 en Proceedings of the Royal Society B. demuestra que los gatos poseen visión ultravioleta que les  dota sobre todo de una mejor visión nocturna. 
Eso precisamente es también el cometido del tapetum lucidum, una capa de células reflectantes en el fondo del ojo del gato, que actúa a modo de espejo, devolviendo la luz a la retina, haciendo brillar a los ojos de los gatos en la oscuridad y mejorando su visión en condiciones de escasa luminosidad.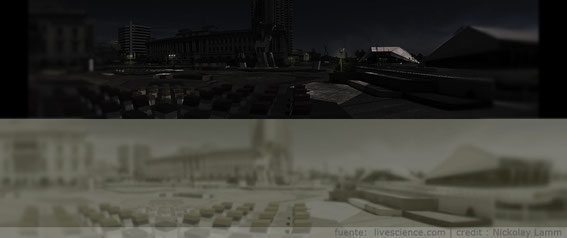 más fotos de simulacion de visión gatuna del artista e investigador Nickolay Lamm
En ausencia total de luz, sin embargo, tampoco los gatos pueden ver y usan otros sentidos para orientarse.